Halifax Fan can meet the needs of every dryer application. Dryers basically use dry air to remove moisture from a product, either as a batch or continuous flow process. The web-based process employed in the manufacture of paper, board and wallboard require the continuous high speed flow of heated air over the product to reduce its moisture content. Both ID and FD fans can be employed to control the humidity and temperature in rotary drum and spray dryers. Bi-directional fans reverse airflow in curing rooms where a longer drying cycle is required to process the entire contents of the space. Batch drying of smaller quantities may need simple recirculation fans to pass heated air through the drying pans. On all of these applications efficiency is an important consideration along with the selection of the right material to ensure long-term reliability.
Relevant Materials:
Carbon Steel
Stainless Steel
Common fan features
Ambient air inlet filters and silencers
Impeller inspection hatches.
Acoustic and thermal lagging solutions.
Inlet / outlet silencers as well as complete acoustic chambers.
Inlet Guide Vane, louvre, butterfly or guillotine dampers.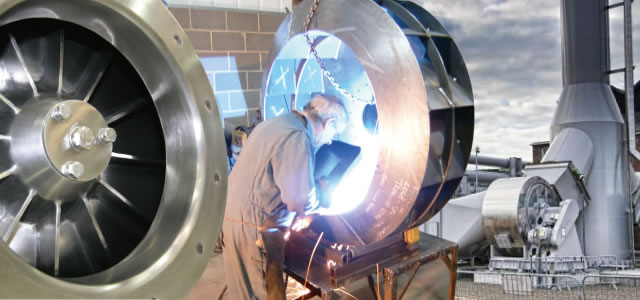 Applications involving extreme temperatures, down to -50oC and as high as 850oC, or dealing with explosive, poisonous or corrosive gases, mandate the use of exotic materials such as Hastelloy or Titanium, to ensure long-term reliability and safety. Many of the special features incorporated into our fans have been designed to meet our customer's special needs and the following list gives a taste of Halifax Fan's wide experience. That experience is there to meet the challenge presented by your fan application.