Forced draft (FD) fans are most often associated with the supply of combustion air to boilers, particularly in power generation where the forced supply of oxygen increases the heat transfer rate and enables a smaller boiler to produce more heat. Control of the airflow utilising variable speed or damper control of the fan may be required. Clean-rooms or operating-rooms may require constant pressurisation of the space and FD fans are ideal for these applications. However, noise may constitute a problem in such applications and filters and acoustic enclosures may be called for.
Relevant construction materials:
Carbon Steel
Stainless Steel
Common fan features
Impeller inspection hatches.
Acoustic and thermal lagging solutions.
Inlet / outlet silencers as well as complete acoustic chambers.
Inlet Guide Vane, louvre, butterfly or guillotine dampers.
Safety guards and electrical isolators.
Ambient air inlet filters and silencers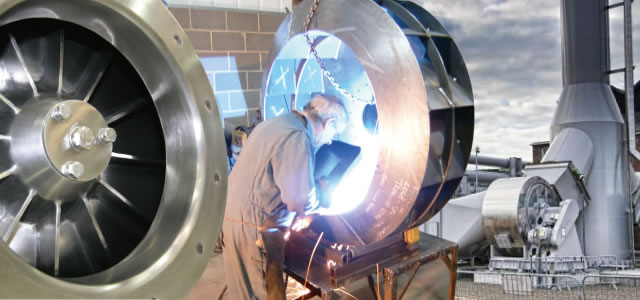 Applications involving extreme temperatures, down to -50oC and as high as 850oC, or dealing with explosive, poisonous or corrosive gases, mandate the use of exotic materials such as Hastelloy or Titanium, to ensure long-term reliability and safety. Many of the special features incorporated into our fans have been designed to meet our customer's special needs and the following list gives a taste of Halifax Fan's wide experience. That experience is there to meet the challenge presented by your fan application.