Where forced draft (FD) fans create positive pressure, induced draft (FD) fans create negative pressure, or put simply, suck air through a system. Frequently ID and FD fans work in concert in boiler applications. In such applications, the ID fans must be constructed to handle high temperature gases and high particulate loadings. ID fans are widely used in the food industry to extract cooking odours from the process before passing them through filters an scrubbers prior to extract to the air.
Relevant construction materials:
Common fan features
Shaft sealing from simple PTFE glands through to nitrogen or water-purged carbon ring seals
Acoustic and thermal lagging solutions.
Inlet / outlet silencers as well as complete acoustic chambers.
Inlet Guide Vane, louvre, butterfly or guillotine dampers.
Safety guards and electrical isolators.
Ambient air inlet filters and silencers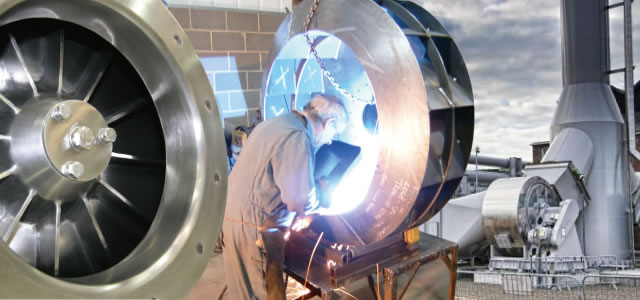 Applications involving extreme temperatures, down to -50oC and as high as 850oC, or dealing with explosive, poisonous or corrosive gases, mandate the use of exotic materials such as Hastelloy or Titanium, to ensure long-term reliability and safety. Many of the special features incorporated into our fans have been designed to meet our customer's special needs and the following list gives a taste of Halifax Fan's wide experience. That experience is there to meet the challenge presented by your fan application.