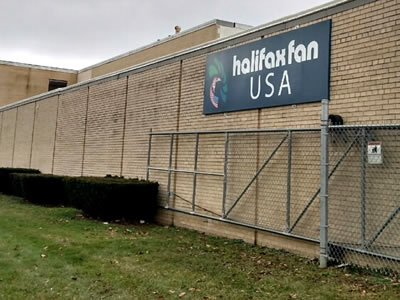 Halifax Fan has deservedly earned a global reputation for the quality, reliability and efficiency of its centrifugal fans. Group Managing Director Malcolm Staff headed the expansion into China in 2006, which saw rapid growth in the burgeoning local marketplace and earned it many loyal customers among American contractors and OEMs serving the S.E. Asian market.
Halifax's ethos of custom-building its centrifugal fans to meet its customers' application needs, backed up by solid after sales service, brought rapid growth with those same customers buying fans for the wider global market and so, in January 2016, Halifax established a manufacturing base in Akron, Ohio from which to offer an improved service to the US market.
Halifax has well established expertise in the design and manufacture of ATEX fans, fabricated from specialised steels for the most demanding corrosive and explosive environments but also has the capability to service much larger fans, including those of other's manufacture. In the same way that the adoption of the most up-to-date computerised software and internet techniques enabled Halifax's Shenzhen plant to easily access its design team in the UK, so it will immediately enable the Akron plant to move rapidly ahead with the company's proven fan designs for the US market. There is a strong US demand for custom-designed fans built to CE specifications, particularly the EU327 efficiency regulations, as these have become a de-facto world standard. Halifax's ability to meet these demands promptly and economically gives it strong leverage, particularly where American OEMs are competing in the European market.
As Malcolm Staff explained "our in-house engineering facility, headed by Dr John Irons, can now offer the design and US manufacture of custom designed fans, along with local support, for a wide range of fan requirements in the three largest markets in the world"
Impeller sizes: 9" (229mm) to 135" (3433mm) diameter
Flow range: up to 1,000,000 m3/hr
Temp range: -200oC to 900oC
Chemical resistance:- From clean air to hydrochlorides and sulphuric acid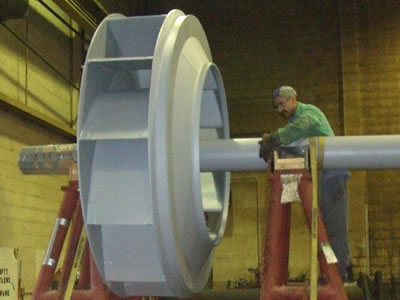 The 50 ton lifting capability in the Akron plant, combined with the manufacturing capability of ASW D11 certified welders; means Halifax can handle large static and rotating structures. If required, weld testing, including dye penetrant and radiography, can also be carried out. Welder coding and experience covers a wide range of materials including mild steel, stainless steel, Ferralium, Hasteloy and titanium. If required, rubber or chemical resistant coatings can also be applied to the fan casings.
As Staff also pointed out "customer service has long been a vital aspect of our business model and we have the ability to balance large impellers up to 120,000Kg, either in-house or on site. With larger impellers, including rotors, rollers and gears, correct and optimum balancing has crucial benefits on reducing structural stress, reducing noise levels, improved geometric control and an overall improvement in efficiency. This latter, along with reduced, unplanned downtime, dramatically reduces the life-costs of the equipment."
Servicing not only their own fans but also those of others has become a key component of Halifax's business model and their proven ability to service the installed base of large fans in the US power and mining industries, offering laser alignment, repairs and welding, wear-plate replacement and bearing vibration analysis, makes Halifax Fan the go-to U.S. centrifugal fan manufacturer, for superior service, shorter lead times and highly competitive pricing.