The heavy engineering capacity of the new plant in Akron, Ohio, has enabled Halifax to produce custom designed fans from 9ins to 140ins diameter and subsequently, turnover in the USA has nearly trebled over the last 12 months. Manufacturing in North America has also won them a number of new customers in Canada, a market previously difficult to service.
Halifax is a specialist in high specification fans conforming to amongst others the demanding ATEX (flammable/explosion safe) directive and offers in-house testing and certification, which shortens lead-times and reduces costs. Fans can also be designed and manufactured to American Petroleum Institute (API) standards for applications in the oil and gas sector, where the need for safety, efficiency and reliability are paramount.
All fans are CE marked and comply to the relevant European directives as standard, although fans shave been made to meet most specifications from various industries around the globe.
Halifax has wide experience in supplying fans capable of up to 1600oF. The company is consequently making strong inroads into the US market for oven, furnace and dryer fans which need to be able to handle such high temperatures. Halifax's direct driven recirculation 'plug' fans, which handle up to 700of with standard motors, are proving popular as a lower cost, higher efficiency and lower maintenance solution in comparison to belt driven fans and these can be supplied as arrangement of 4 fans up to 70ins diameter.
Fan efficiency is an important consideration in fans drawing hundreds of kilowatts, where every percent of efficiency gained reduces running costs substantially. Often best efficiency is achieved by controlling the fan via an a.c. variable speed drive (VSD). Halifax Fan also offer a pre-sales consultancy service to potential customers where you can discuss and calculate these options.
With factories in Europe, China and the USA, all working to common design and manufacturing standards and linked by cloud computing facilities, Halifax Fan is ideally positioned to meet the demands of American OEMs, themselves exporting to the European and Chinese markets where Halifax has an active field service capability. Few, if any, US fan manufacturers offer local field service for commissioning and maintenance and so the field service team has itself been expanded to maintain the high level of local service US customers have come to rely on in overseas markets.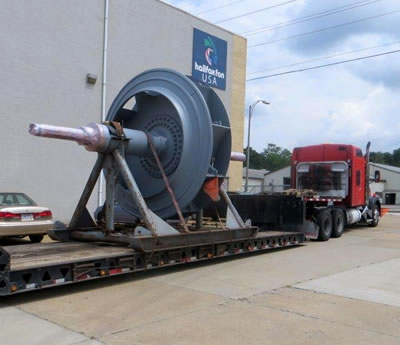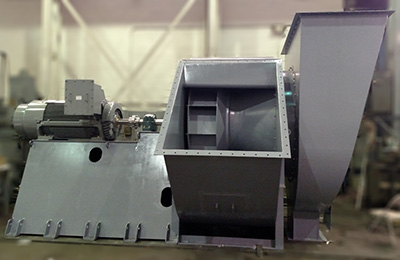 A mild steel fan for a thermal oxidiser in the environmental industry being aligned prior to testing. Duty of 45,000 CFM 24"SP with a 250HP motor, complete with inlet box.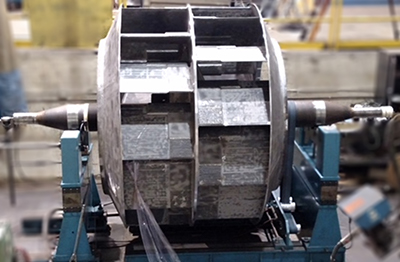 A large double width impeller being balanced, this was for the fume extraction system which is built around four 2.5m Double Inlet Double Width (DIDW) aerofoil bladed fans pulling 520,000cfm each with 1.2MW Variable Speed Drive (VSD) motors.
The fans are operating at temperatures of up to 130oC, and are installed upstream of the main filter plant, so the fans are exposed to dust being extracted from the plant, the blades are overlayed with tungsten carbide.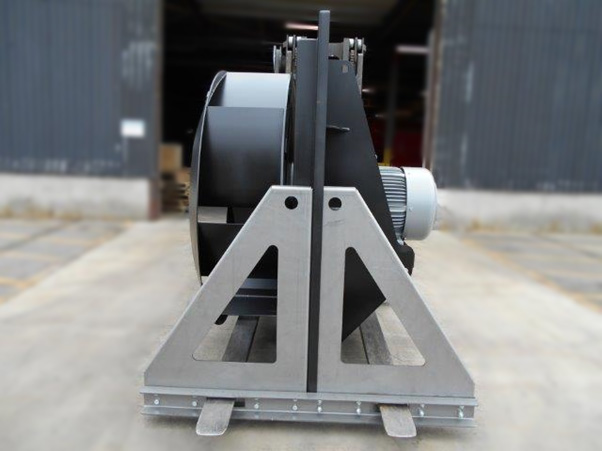 A directly driven plug fan for an oven application, this innovative and well used solution allows us to drive the wheel directly from a standard motor at oven temperatures up to 700F. This model is a 67" wheel at 80,000 CfM 4"SP with a 60HP motor.