Odour control involves venting large volumes of air from such as food preparation and chemical plants and passing the contaminated air through bio-scrubbers before exhausting it to atmosphere. If there is heavy particulate loading in the airstream, a self-cleaning fan would be recommended. In chemical plant applications, a more corrosive resistant impeller design may be required to ensure long-term durability.
Relevant construction materials:
Carbon Steel
Stainless Steel
Coated Carbon Steel
Hastelloy
Titanium
Common fan features
Shaft sealing from simple PTFE glands through to nitrogen or water-purged carbon ring seals.
Impeller inspection hatches.
Acoustic and thermal lagging solutions.
Inlet / outlet silencers as well as complete acoustic chambers.
Inlet Guide Vane, louvre, butterfly or guillotine dampers.
Safety guards and electrical isolators.
Ambient air inlet filters and silencers.
ATEX in-house testing and certification.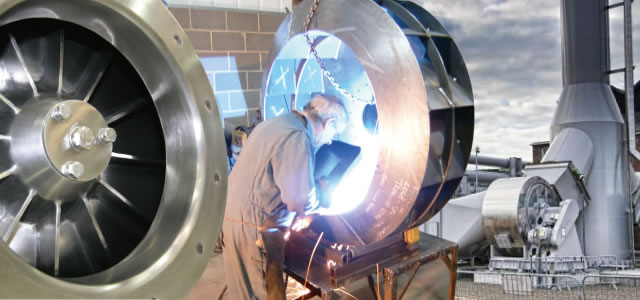 Applications involving extreme temperatures, down to -50oC and as high as 850oC, or dealing with explosive, poisonous or corrosive gases, mandate the use of exotic materials such as Hastelloy or Titanium, to ensure long-term reliability and safety. Many of the special features incorporated into our fans have been designed to meet our customer's special needs and the following list gives a taste of Halifax Fan's wide experience. That experience is there to meet the challenge presented by your fan application.