A combination of regular volume OEM orders coupled with orders for two of the biggest fans in its history, has enabled Halifax Fan to rack up record growth figures. 2010/11 saw sales grow by 30% followed by 45% growth during 2011/12.
The Brighouse and Shenzhen factories are in full flow, fulfilling contracts ranging from £100 to £800,000. One US OEM supplying to the oil industry has placed a two-year contract for 50 hazardous area fans per month.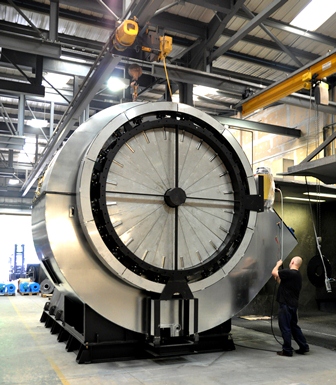 This success is entirely due to a solid programme of investment right across the business, from the bold strategy of setting up a factory in China, new computing techniques such as 'cloud' computing and 'SAP by Design', to an extensive commitment to training including apprenticeships and graduate sponsorship schemes.
During the last 6 years, the Chinese factory has grown to over 4,000m2, employing some 50 staff, with an enviable training and staff retention record that reflects well on product quality and reliability. The Shenzhen and Brighouse factories work hand-in-glove with Shenzhen translating Brighouse designs to the same high standards as the UK plant. Cloud computing facilitates a rapid response to any enquiries, resulting in a competitive bespoke design from the UK design centre being immediately available for manufacture either in the UK or China, speeding delivery across the globe.
Halifax's dedicated focus on fan quality, reliability and efficiency has earned it a sterling worldwide reputation, particularly for fans for hazardous area applications, such as in the petrochemical and pharmaceutical sectors. Indeed, Group Technical Director Charles Halstead works on the committee setting ATEX standards for the future.
With offices in the UK, China, Thailand, Hong-Kong and Sydney, Halifax offer a global service right across the industrial sectors for fans big and small, simple and high-tech, but all designed to be efficient and reliable.