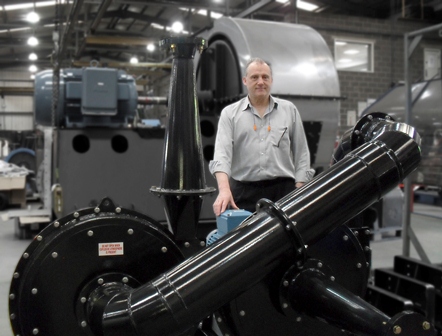 While many long established companies have vanished from sight since 2008, Halifax Fan Ltd has gone from strength to strength.
It hit the magic £10m turnover figure during 2013 and this year celebrates its 50th birthday and is looking forward to strong growth over the coming years.
The key has been continuous solid investment in the business and in its people. Over these last 50 years the company has accumulated an enormous depth of skill within its long serving personnel. One of the company's engineers will clock-up 40 years of service this year, as will 3 others during the next 5 years. This '50 years of experience' has been put at the customer's fingertips with a new fan configuration tool on the company's website. This tool takes all the company's accumulated design knowledge and makes it available on a simple 'tick-box' format for any engineer, anywhere in the world, to use.

There's also been huge investment in tooling, in computerisation and in software tools like SAP for Design, Finite Element Analysis linked to its CAD system and Computational Fluid Analysis. More than anything, taking their business to the world's busiest marketplace by building a new factory in China has given the company an enormous boost.
That factory now employs over 70 personnel; many UK trained, and occupies over 5,000m3. Offices, staffed by trained engineers, who provide a solid consultancy service on the company's products, have been opened in Shanghai, Hong Kong and Bangkok. 'There's an old saying that when the going gets tough, the tough gets going' said company MD Malcolm Staff. 'We had to take our expertise to where there was a strong market for it and that has paid real dividends.
We sell fans of quality, reliability and efficiency and that's exactly what the SE Asian market wants. They have a real focus on life cost rather than first cost and we provide fans that operate efficiently and don't break down so lifetime costs are greatly reduced.'

From making simple fans for the textile industry, the company manufactures fans small and large for the widest possible spectrum of industries and specialises in high safety ATEX certified fans for the likes of the petrochemical industry. Halifax engineers helped write the EU regulations on ATEX fans and are now involved in formulating the EU directive on fan efficiency.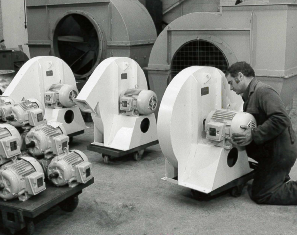 The growth of not only China's but SE Asia's industrial infrastructure offers great opportunities and the new office in Shanghai will support some of the world's most prominent engineering concerns and consultancies, many of whom have located regional offices to Shanghai to service the expanding SE Asian market.
'Manufacturing in China has given us a great edge' said Staff. 'Potential customers can visit the factory easily, delivery is quicker and cheaper and our competitiveness is enhanced by buying and manufacturing locally.' The UK is still the company's design and development stronghold but the use of cloud computing means the UK and Chinese factories are no farther apart than the nearest computer keyboard.