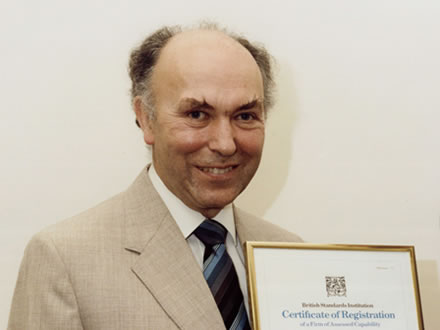 It is with great sadness that we have to report the death at age 78 of our founder David Scott. David passed away peacefully with his family by his side and will be greatly missed by them, his colleagues and many in engineering circles in Yorkshire.
David was a young engineer, working in West Yorkshire when a niche in the market for centrifugal fans was identified. In 1965 he founded Halifax Fan, initially to serve the local industry but inevitably, the quality, design and reliability of David's products led to the company's expansion into the wider market over a much broader geographical and industrial base.
The attention to detail and focus on quality combined with developing a family approach to the company shows today where many customers and employees are still loyal,many with over 30 years involvement.
Today, Halifax Fan, the company he founded from humble beginnings, is globally recognised as a leading player in the design and manufacture of centrifugal fans, from simple to the most complex. It serves the widest possible spectrum of industrial applications, with products still built in Yorkshire but also now in China and supplied to customers all over the world.
David retired from the company in 1996 after 31 years dedicated to Halifax Fan, he enjoyed his family life, painting and keen angling interests but still continued for a time as technical consultant, providing invaluable advice and support. Also close to his heart was the continuing training of apprentices which he supported until 2014.
Thank you David, for your innovation and entrepreneurial spirit.