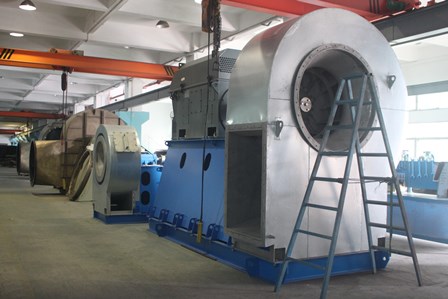 Since setting up in China in 2007, Halifax Fan have had to constantly expand their operation to meet demand for their products in the SE Asian market and now they have had to again expand their 4,000m2 factory by a further 20% to cope with customer demand.
Establishing a factory in China has given Halifax Fan unparalleled access to markets previously difficult and uneconomic to serve. Now, with their factory in Shenzhen and branch offices established in Shanghai, Hong Kong, Thailand, and early next year, in Beijing, they are fast becoming the 'go to' fan provider for one of the most burgeoning world markets. Utilising SAP Cloud technology, means that custom designs developed at their HQ in Brighouse can be realised easily and accurately in the Chinese factory. Maintaining recognised international standards is critical and the factory is accredited to BS EN ISO9001:2008. Their training regime has been another important aspect of the business, maintaining skills and a stable workforce with less than 5% staff turnover while 20% is the local norm.
Senior UK engineers are actively involved in the Shenzhen factory and Dr Gareth Coley is joining the team there as Chief Engineer to work more closely with customers and focus on the application of Halifax's 50 years of fan application knowledge and the use of Finite Element Analysis (FEA) and Computational Fluid Dynamics (CFD) software tools to ensure that every customer gets exactly the right fan for his application. In fact, experience in the SE Asian market is expanding Halifax's range of products to meet demand for bigger, faster, stronger and higher temperature fans, including increased demand for high-specification ATEX certified fans for Zone 0, self-certified to Zone 1 classification, in-house.
As everywhere, energy is a key issue and SE Asia is becoming increasingly focused on the energy efficiency of industrial equipment and fans are very much in the picture in this regard and fan efficiency is increasingly a strong selling point. By custom designing every fan for its application using their FEA and CFD tools, Halifax Fan easily meets the demands of new Eco-design fan efficiency regulations EN327/2011, and indeed was involved in formulating them, so the customer gets exactly the most efficient fan for his application.
Being on the spot in SE Asia, Halifax Fan is ideally positioned to provide local support to UK and US OEMs selling into the Chinese market. In fact, Halifax's expertise in setting up and expanding in the SE Asian market is available not only to their customers worldwide but MD Malcolm Staff would welcome any enquiry from others intent on setting up businesses in the Chinese market and can provide a consultancy service to this end.