Time was, powder milling was an energy intensive process, involving traditional ball, hammer and impact mills and crushers.
Today, IIT Ltd (International Innovative Technologies) based in a state-of-the art facility in Gateshead, have developed a range of powder mills and classifiers that provide high performance but with a much reduced specific energy requirement.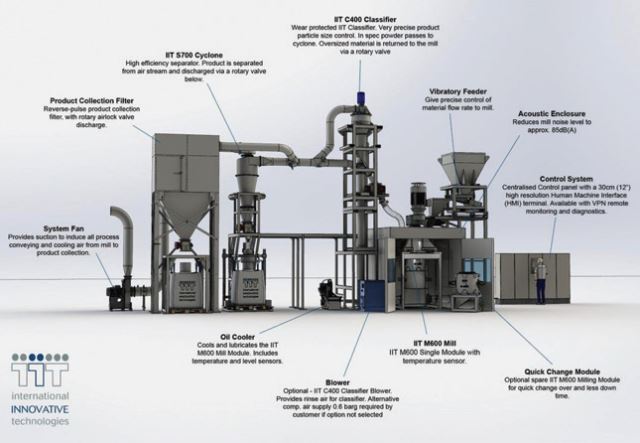 They offer milling technology in areas where previously milling was lesseconomic. Such scrap materials as GRP off-cuts, glass cullet, fly ash and many more can now be economically milled to an accurately defined powder. For instance,
recycled glass can be milled, cost effectively, down to sub 75 micron powders, for use in foam glass production or as a fluxing agent in brick manufacture as well as coarser specifications for recycled inclusion in new container glass production. The use of milled and classified fly ash in the production of advanced ceramics has also led to orders for IIT's technology.
IIT's m-series® mills are of a unique design with a Non-Captive Bed roller/ring system, differentiating them from typical roller mills where the material is held captive in the milling zone until ground finely enough. In the IIT m-series® mills, the residence time in the milling zone is less than a second, contributing to the very low specific energy requirement and low wear rates. Click here to read the full article