There's no question that quality drives growth in any business and it's no different in the design and manufacture of top quality industrial fans. Thirteen years ago, following demand from the burgeoning Chinese market, Halifax Fan identified China and SE Asia as having huge potential for its industrial fans and opened its first Chinese factory in Shenzhen, just across the border from Hong Kong. Growth has been spectacular with demand outstripping capacity.
Halifax Fan has now expanded yet again, purchasing a 6,800 m2 factory in Nantong, on the northern part of the Yangtze River, just above Shanghai, in the East of China. This additional new facility, 1,500km north of Shenzhen, enables Halifax to locally meet the demands of 5 key markets for specialised fans for environmental, petrochemical, marine, and ATEX applications along with a wide range of fans for general applications. Manufacturing to Halifax Fan's demanding engineering standards is well under way and will facilitate the manufacture of Halifax's Engineering Masterpieces with impellers up to 4000mm in diameter. There are separate manufacturing and process lines for mild and stainless steels and fully coded welders to suit all materials including mild and stainless steels, special alloys, Hastelloy and titanium. A 3mW test facility to ISO5801/BS848/ AMCA210 ensures that every fan leaves the factory fully tested to meet the customer's specification.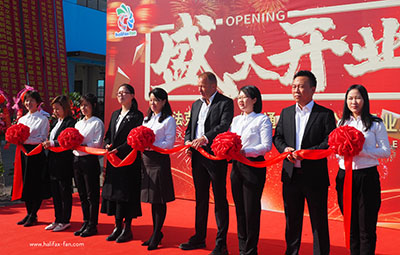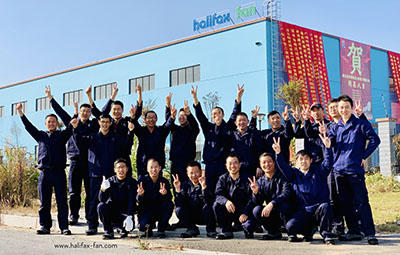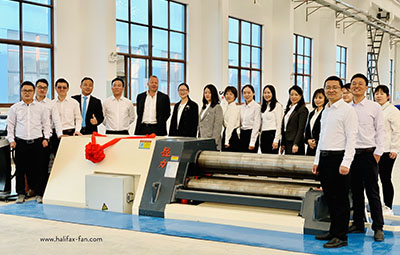 To ensure success and nodding to the Chinese tradition, the official opening took place on the auspicious date and time of November 14th. The ribbon was cut at precisely 10:08am and the opening ceremony was attended by local government authorities.
Initially, fully trained and experienced Halifax FAN:gineers are being relocated from Shenzhen to kick-start the business and to train personnel hired locally from Nantong's substantial industrial infrastructure. Nantong is a prefecture-level port city of greater than 7,000,000 people and is a specially designated area for environmental support. It is ideally located to serve the huge growth of the industrial north of China and with easy access to the South China Sea and overseas markets.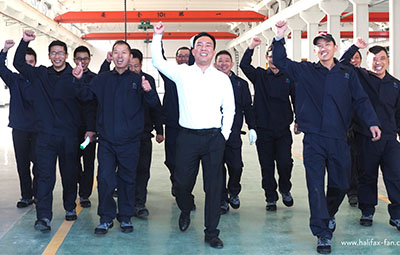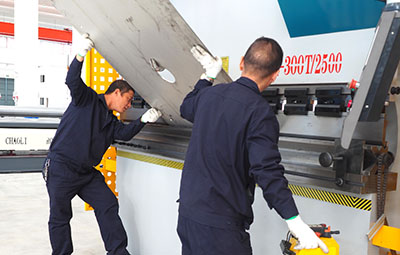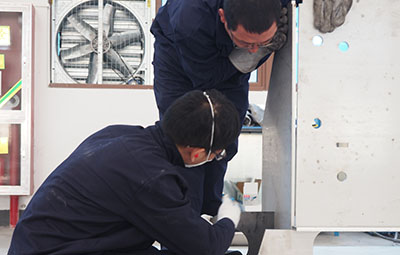 Adding this substantial facility to its Shenzhen operation will provide a $75m boost to Halifax's annual capacity. According to Managing Director Malcolm Staff...
The substantial investment we have made in our Chinese plants, along with the adoption of the most modern computer-driven design and manufacturing systems, has put us in a strong market position. We serve the global market, on land and sea, from three continents, offering the highest quality products at competitive prices. Being close to our markets, delivery is swifter and lower cost than most of our competitors and in some cases, tariffs avoided. This new factory will allow us to offer our Engineering Masterpiece fans with local support to one of the fastest growing industrial marketplaces in the world. With further sales and support offices in Shanghai and Xi'an it would be wrong to say we have China covered but its fast becoming a Halifax FAN:tasy land.