Fan Spares
At Halifax fan we have a vast archive of data, recording every fan that we have ever supplied.
We are able to supply spare parts or complete replacements for any fan previously supplied by us.
If you would like a quotation or have a breakdown please call us on 01484 475123
The quickest way for us to identify the fan is the five digit serial number stamped into the orange name plate on the side of our fan.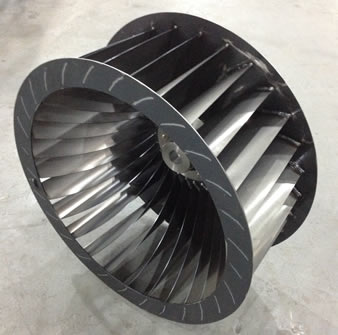 ---
Fan Servicing and Repairs
Halifax Fan offers a full site service including vibration analysis, dynamic balancing, bearing replacement, performance testing and re-commissioning. Where more serious damage is identified Halifax Fan offers a complete fan refurbishment service, bringing your fans back to full operating specification and dependability.
Services include:
Fan application advice
Energy saving consultancy
Installation
Alignment
Vibration analysis
Balancing – on and off-site
Troubleshooting
Training
Performance testing
Maintenance and refurbishment of fan equipment of any manufacture
A Halifax Fan no-commitment site survey could avoid lost production and save you money in the long run.